You are Our RV Family
Our Team is Dedicated to Making Your Dreams Reality
There are four primary reasons Carpenter's Campers has been in business Since 1964: trust, reliability, service and great savings.
The family-owned and operated business was started in Pensacola in 1964 by Marty and Loretta Carpenter. It all began with one pickup camper, a prayer, a lot of enthusiasm about the great outdoors and a prediction by Mr. Carpenter that the recreational vehicle industry would become a huge one. His predictions proved to be accurate.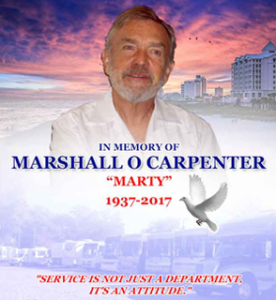 Today, the recreational vehicle market is one of the fastest growing leisure markets, and because of Mr. Carpenter's vision, Carpenter's Campers is one of the largest suppliers of RVs and parts on the Gulf Coast. With over 7 million dollars in vehicle inventory, half-a-million dollars in parts & accessories , a dedicated sales force, and huge selection of quality RVs, Carpenter's is capable of meeting every camping need imaginable.
In fact, Carpenter's has parts you probably don't even know are in your camper. In addition, the service department has highly trained RVDA & RVIA certified mechanics and body repair technicians available to work on whatever needs to be replaced, repaired, or altered.
There are several highly trained RV sales consultants at Carpenter's and some of them have been with the company for over 15 years. One of the reasons the staff here is so impressive is because they are trained, trained, trained. Not many companies spend the kind of money Carpenter's Campers does to keep its personnel informed about market trends and product changes and upgrades. Sales-people attend seminars and training sessions on an ongoing basis and are constantly accruing certifications so they can answer questions posed by long-term and potential customers.
Second generation owner Mark Carpenter believes, "Service makes the difference." That is why his service department technicians are certified at three different levels: apprentice, certified, and master technician. Training seminars cover issues concerning plumbing, electrical wiring, refrigeration, body repair and engines. By the time Carpenter's employees complete sessions given by the Recreational Vehicle Dealer Association-which are intense and detailed-they are trained and certified recreational specialists.
Fourth and fifth generation RV enthusiasts are what make up a good portion of Carpenter's Campers' customer base. Why do they keep coming back? They come back because of the way they are treated and the attention they are given when they most need it.
If you were out on the road and something came up, wouldn't you feel a whole lot better about your safety if you knew you could count on someone to trouble-shoot for you? Mark Carpenter's team of pros does just that and will make every effort to find you a supplier-no matter what state you are in-who will be able to assist you. That's service!
When you visit Carpenter's Campers' 9 - plus acres on Highway 29, you'll feel like you just entered a campground. There are oak trees everywhere, picnic tables and golf carts to take you around so you can look at all the RVs from Coachmen, Tiffin Motor Home, Flagstaff, Cedar Creek, Aspen Trail, Kodiak, Sierra, and much more!
Carpenter's Campers will do whatever they can to help you finance your purchase. They will even help you obtain simple interest loans with tax deductible payments.
If you have the itch to get out on the open road, or you are already an experienced outdoor enthusiast who needs to upgrade to something a little more substantial, make Carpenter's Campers the first place you go. In fact, make it the only place you go. It's the only one-stop recreational dealership around whose owners have been out on the road so many times, they know what works and what doesn't.