You Are Our RV Family
Welcome To Carpenter's Campers!
Serving Pensacola and the Flora-Bama region for affordable and high-quality new and used RVs for sale is what we do best. Since 1964, our family-owned and operated RV dealership, started by founders Marshall "Marty" and Loretta Carpenter, has helped valued customers launch their adventures one sale at a time. We are the oldest and longest-standing RV dealership in Florida, and love meeting new faces along the way. Our four core values — Trust, Reliability, Stellar Service, and Great Savings — influence every aspect of our operations and make us the clear choice for your RV shopping needs. We feature an expansive $7 million RV inventory with several class-leading brands to select from, including Coachmen, Tiffin Motorhome, Flagstaff, Cedar Creek, Aspen Trail, Kodiak, and Sierra. If you're ready to enjoy the RV lifestyle, come see your friends at Carpenter's Campers. Visit us at 8450 Pensacola Blvd, Pensacola, FL, 32534, Monday - Saturday, or contact us at 850-388-6745.
We're Not Like the Rest
Marty's dream of owning a successful family-owned and operated RV dealership was born upon an unsuccessful trip to purchase a camper for his family. His experience highlighted the need for more individual customer service customers often receive during their purchasing processes, and he was determined to make a change. Today our expanding customer base is thanks to his warm personality and sincere dedication to customers that we model to continue his legacy daily. Your shopping experience is essential to us, and we're here to make it as effortless as possible. Browse our new and used RV inventories to discover the right fit for your needs and budget, and rely on our expert staff for questions or additional information. We have many Carpenter's Campers sales team members with over 15 years of experience to help find the best fit for your family.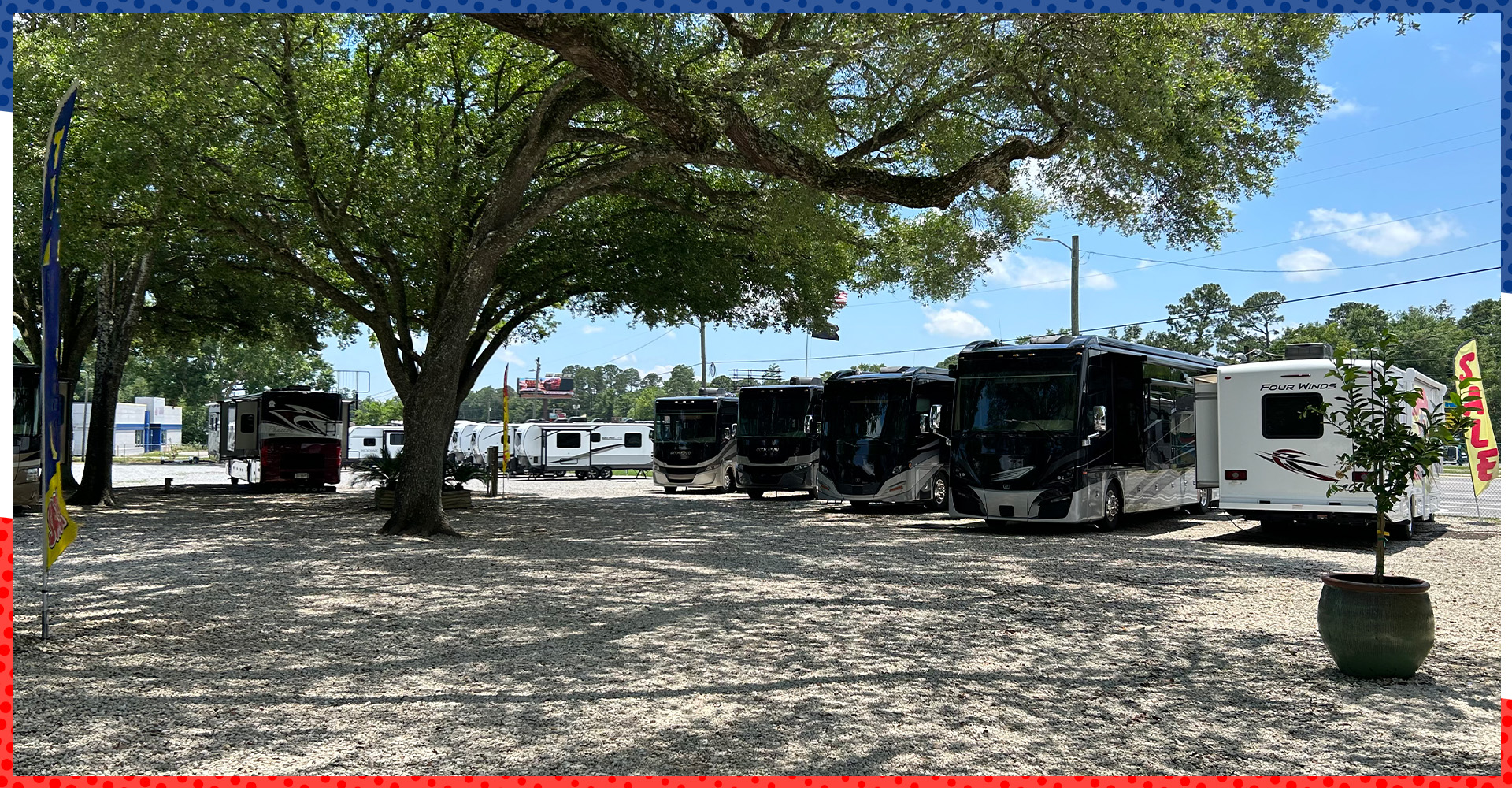 The Customer Comes First
Our top priority is always Service First. We understand that the level of service you receive makes a difference, and we're committed to offering an experience above and beyond the typical RV buying or service process. Our RV service department is well-known for over 50 years of excellent service and a 98.8% customer satisfaction rating. When you stop in for RV service, expect to be greeted by the same smiling faces every time you enter the door. Our experienced technicians have been a part of the Carpenter family for several years and are here to help however they can! In addition to our reputable service department, we also offer affordable RV financing in Florida, where you can get pre-approved online in 30 seconds!

Carpenter's Cares
Giving back to our community has always been important to us. We take pride in donating to local charities, churches, and organizations, including:
Ronald McDonald House

Pace Assembly Ministries

Gulf Coast Kid's House

Jay High School Softball 

Tate FFA Rodeo

Family Research Council

Miracle League of Pensacola

Pensacola Veterans Golf Classic

And many others!
Pensacola's Premier RV Dealer
When you choose Carpenter's Campers for your RV shopping needs, expect to be welcomed as a new member of the Carpenter family. When you're here, you're family! Visit us to learn more and purchase a new or used RV for sale in Pensacola, FL.